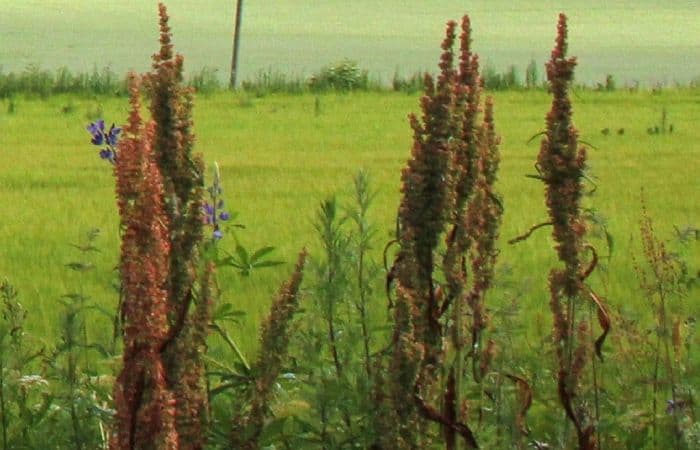 Botanical Name of Northern Dock: Rumex longifolius.
Other Common Names: Dooryard dock, Gemüse-Ampfer (German), rumex à longues feuilles (French), gårdsskräppa (Swedish), by-skræppe (Danish), njoli (Icelandic), høymol (Norwegian) hevonhierakka (Finnish).
Habitat: Northern dock is native to Europe (including Britain) and Western and central Asia. It has been introduced to North America.
The plant thrives best in moist cultivated soil and is usually found in arable land, by roadsides, waste dumps, etc. It is often regarded as a troublesome weed.
Description: Northern dock is a perennial plant that belongs to the knotweed family (Polygonaceae). It can grow from up to 60 cm to 1 meter tall (24 to 47 inches). The stem is erect with alternate ovate–lanceolate and rounded base leaves.
The flowers, that appear from July to September, are small, greenish and bisexual. The fruit is a shiny brown nut with a triangular cross section.
Plant Parts Used: It is mostly the root that has been used as herbal medicine but sometimes the leaves were also used.
The minced or crushed root can be used to make tinctures, decoction or herbal teas. The root can be stored in a dried form for several years.
The leaves (harvested while they are young) and the seeds can be used in small amounts as food.